Protect waste lines against blocking and stoppages. Select a separator with a gallon-per-minute flow equal to the initial tank discharge capacity. Draw-off valve available. With an internal flow control, an external flow control is not necessary.

Flush-with-floor installation – GIS Series with body vent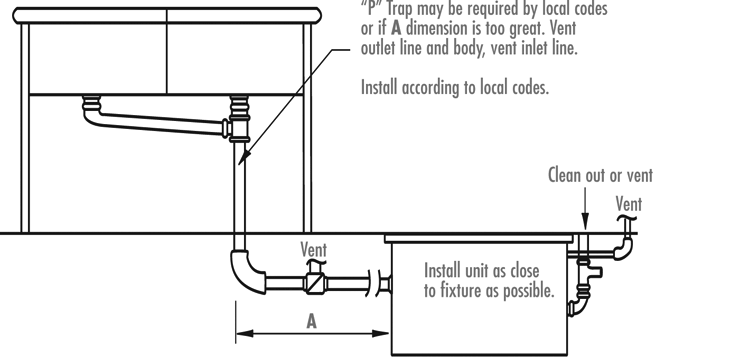 Flush-with-floor installation – GF & GFE Series with body vent
Installation must conform to local code. On a dishwasher with three tanks, bypass the final rinse cycle when permitted by code. Allow headroom to lift out both screens for cleaning.
Some dishwashers have lower waste openings than illustrated on the separators. An example is the Blakeslee dishwasher with a 3″ center line waste outlet and with the new dry recirculating pump which requires that the static water level in the separator be lower than 9″. We manufacture and stock separators to meet these requirements. Specify M (Outlet opposite Inlet), L (Left Hand Outlet), or R (Right Hand Outlet) on your order.